Why Shop at Midwest Transit?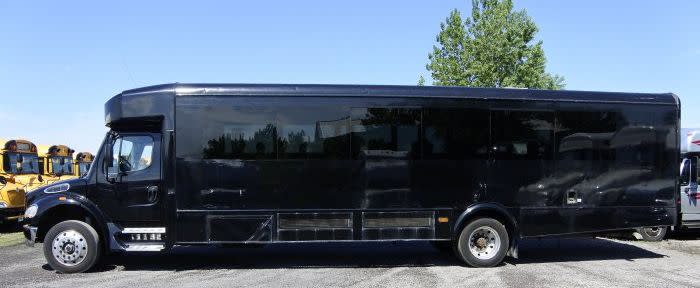 One of the greatest parts of the vehicle market in the United States is how many options customers have. If you're in need of a bus, you can browse through a large number of distributors to determine which one's inventory and service is the right fit for you. At Midwest Transit, we want to take a moment to show our hand and convince you why we think that we'll be able to exceed the expectations of anyone who decides to work with us! If we manage to win you over, you can contact us at 800-933-2412.
Our Dealership
At Midwest Transit, we are well-equipped to satisfy any kind of customer that might come to us in need. We have over 40 years of experience, honesty, and integrity in this industry—both in dealing with manufacturers and our valued clientele. Over the time we've worked, we've amassed and maintained thousands of vehicles at eight locations throughout the Midwest. We have over 400 employees contributing to our passion for attentive, and careful service, as well as an eight million dollar parts industry more than ready for any maintenance that you might require!
Inventory
As our number of locations and our popularity has steadily grown, so has our inventory! When you work with us, you'll have access to thousands of superb buses ranging from ones that seat less than 10 passengers to those that can fit over 70! Likewise, we have models that are equipped for handicapped passengers, those with diesel and gasoline engines, and sell both new and pre-owned models. We proudly carry a variety of makes including Chevrolet, Dodge, Ford, Freightliner, IC, Mercedes, and Ram. If you're not sure which bus to start with, we'd highly recommend browsing through our Starcraft models—luxurious buses with a variety of seating options and a host of features to keep your guests comfortable during their journeys.
Lease Returns
If you're looking for a spectacular model at a discounted price, we'd recommend looking through our lease returns! As the name implies, these are buses that have been leased for a period in the past and our now up for sale. Because they have only been lightly used, they typically come with a reasonable mileage and minimal wear and tear both inside and outside. Whether you need a small school bus or a MFSAB model for activity trips, we'll help you find one that satisfies your traveling needs as well as your budgetary constraints!
Why shop at Midwest Transit? We proudly provide our customers with an extensive inventory, helpful discounted vehicles, and exemplary service throughout all of our dealings! To see what our previous customers have thought, feel free to browse their testimonials.
Sales Hours
| | |
| --- | --- |
| Monday | 8:00 am - 5:00 pm |
| Tuesday | 8:00 am - 5:00 pm |
| Wednesday | 8:00 am - 5:00 pm |
| Thursday | 8:00 am - 5:00 pm |
| Friday | 8:00 am - 5:00 pm |
| Saturday | 8:00 am - 12:00 pm |
| Sunday | Closed |

Testimonials
Fantastic buying experience
Indiana
6-5-2019
Top Notch
Forsyth, Illinois
1-25-2018
Amazing Staff
Oakwood, IL
1-11-2018
Good Selection of Buses
USA
1-8-2018
Midwest Transit is Awesome
Texas
10-17-2017
Congrats! You got a 5 Star Review
USA
8-26-2017
Congrats! You got a 5-Star Review
USA
7-17-2017
5-Star Review
USA
7-17-2017
Staff was the most friendly...
J.C. - R.C. Transportation
Richmond, Missouri
4-13-2017
Best Bus Dealer in North America
Chicago, Illinois
10-14-2016
Pleasure doing business with you!
Ron C - Managing Director & Board President
Louisville, KY
9-7-2016
Felt like Family
Bloomington, IL
7-1-2016
Excellent Service
6-1-2016
I love my new MV-1
Whiteland, IN
5-24-2016
Based on your Overall Experience would you recommend a purchase - YES!
San Diego, CA
5-16-2016
Excellent Job in Helping Us
West Chicago
4-23-2016
MV-1 Parts
Montana
4-22-2016
Congratulations
Lisle, Illinois
4-11-2016
Very Helpful
Illinois
4-6-2016
Buy all of our future vehicles through Midwest Transit
San Diego, CA
5-16-2016
Read More