What Is a Mobility Vehicle?
Testimonials
Fantastic buying experience
Indiana
6-5-2019
Top Notch
Forsyth, Illinois
1-25-2018
Amazing Staff
Oakwood, IL
1-11-2018
Good Selection of Buses
USA
1-8-2018
Midwest Transit is Awesome
Texas
10-17-2017
Congrats! You got a 5 Star Review
USA
8-26-2017
Congrats! You got a 5-Star Review
USA
7-17-2017
5-Star Review
USA
7-17-2017
Staff was the most friendly...
J.C. - R.C. Transportation
Richmond, Missouri
4-13-2017
Best Bus Dealer in North America
Chicago, Illinois
10-14-2016
Pleasure doing business with you!
Ron C - Managing Director & Board President
Louisville, KY
9-7-2016
Felt like Family
Bloomington, IL
7-1-2016
Excellent Service
6-1-2016
I love my new MV-1
Whiteland, IN
5-24-2016
Based on your Overall Experience would you recommend a purchase - YES!
San Diego, CA
5-16-2016
Excellent Job in Helping Us
West Chicago
4-23-2016
MV-1 Parts
Montana
4-22-2016
Congratulations
Lisle, Illinois
4-11-2016
Very Helpful
Illinois
4-6-2016
Buy all of our future vehicles through Midwest Transit
San Diego, CA
5-16-2016
Read More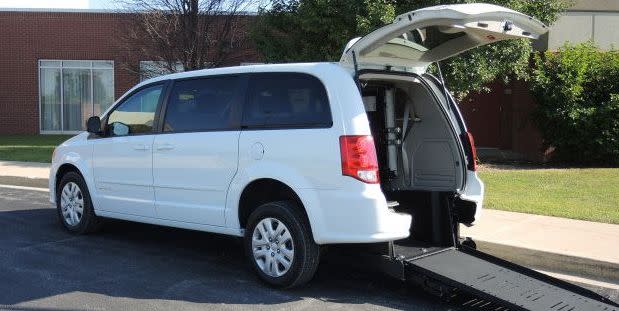 Here at Midwest Transit, we know a thing or two about mobility vehicles, such as the requirements, licenses, and more. Whether you're disabled or you need a vehicle to transport a disabled individual from place to place, we're here to help. If you have any questions or inquiries, please don't hesitate to contact us. We would be more than happy to assist you!
What Is a Mobility Vehicle?
A mobility vehicle makes things easier for the disabled by allowing them to easily enter and exit on their own or with minimal help. There's no doubt that wheelchair vans are one of the most popular mobility vehicles out there. They allow you to load and unload wheelchairs and scooters without having to fold them up and move the individual into a bucket seat, so a disabled person can comfortability remain in their wheelchair. From the Dodge Caravan to the Toyota Sienna, we carry a variety of different makes, models, and trims to suit your needs. Better yet, these wheelchair vans include all of the standard features you would find on a regular van, except they provide you with wheelchair accessibility, proving that you can have it all! You don't have to miss out on the luxurious features you've always dreamed about.
Finding a Mobility Vehicle on Our Website
Did you know you can find your mobility vehicle right here on our website? All you have to do is navigate to our home page and click on the Mobility Vehicles circle to see our inventory. You'll see that each one has a brief description, images, mileage, and price. If you wish to narrow your search a tad further, you can make use of the filter to the left-hand side of the page. There, you can select the make, model, color, year, seating capacity, and more. Once you've completed that step, a new list will populate. If you find one that piques your interest, go ahead and click on the vehicle's image to view it in further detail.
Financing
Last, but not least, we have an expert staff that specializes in mobility vehicle financing, ensuring that you get the best price possible. We must add, we're a licensed commercial dealer and we receive these vehicles in bulk, allowing us to keep the cost low. One of our staff members would be more than happy to walk you through the whole financing process, so you have an affordable monthly installment plan and APR. We'll crunch numbers, while you sit back and relax!
We hope you're no longer wondering, "what is a mobility vehicle?" If you want to get a feel for one, please feel free to stop by one of our locations for a test drive here at Midwest Transit. We would love to show you around and find a mobility vehicle that works for you and your loved ones!