Used Church Shuttle Buses near Chicago, IL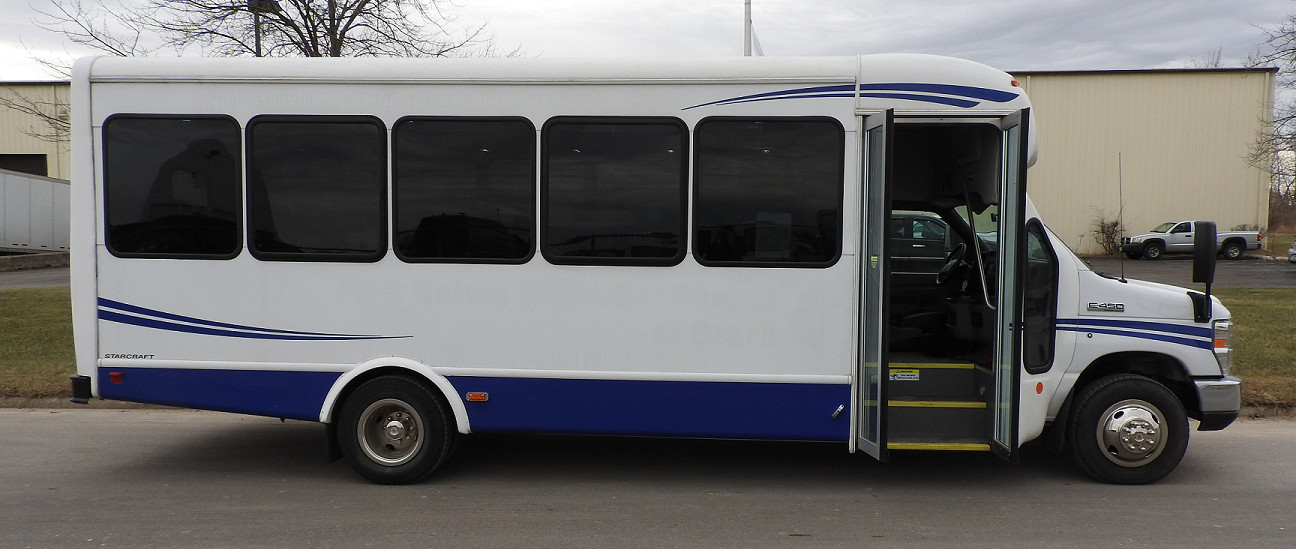 Your center of worship needs a suitable shuttle bus to ensure that you can always make it to retreats, functions, and other group events in a safe, secure manner. Thankfully, you'll find a wide variety of reliable options here at Midwest Transit! Regardless of your budget and other requirements, you can trust that we'll go the extra mile to find a shuttle vehicle that has plenty left to offer.
Shuttle Bus Types
If you're relatively new to the world of shuttle buses, we're here to briefly fill you in on the different segments, brands, and body styles at your disposal. First, even complete novices will feel at ease, as our sales lot features familiar makes like Chevrolet and Ford, so you know you're getting a quality vehicle. Furthermore, our shuttle buses can hold a wide range of passengers, with most ranging between 8- and 28-person capacity. Best of all, we strive to carry recent models, so you won't feel like you're settling for an ancient clunker. To learn more, give us a call today!
Financing
We understand that our clients come from a variety of financial backgrounds, so our staff members are ready to work with all types of credit histories. If you'd like, you can get a head start on your purchase by using some of our online tools, like the Value Your Trade resource. If you happen to possess another set of wheels that you're ready to part with, you can input its VIN and receive an instant offer! That being said, we're more than happy to guide you through each and every step in the process if you're unsure, so that there's no grey area.
Stop by Soon!
Of course, in order to choose the right shuttle bus for your church, you'll need to swing by one of our convenient locations to view our stock in person. Whether you're the one who will be at the helm or not, you can get behind the wheel and take your top contenders for a spin around the block until you have the winner. Once you're ready to proceed to the next step, our Finance Department will be there to lend a hand with the loan-approval process, so you're not left to fend for yourself. By using our leverage with local lenders, we'll be sure to snag a competitive rate on your behalf.
If you've been looking high and low for used church shuttle buses near Chicago, IL, make Midwest Transit your next and final stop. From our team of experts to our generous stock, we're fully prepared to exceed your expectations! Contact us to hear more today.

Sales Hours
(800) 933-2412
| | |
| --- | --- |
| Monday | 8:00 am - 5:00 pm |
| Tuesday | 8:00 am - 5:00 pm |
| Wednesday | 8:00 am - 5:00 pm |
| Thursday | 8:00 am - 5:00 pm |
| Friday | 8:00 am - 5:00 pm |
| Saturday | 8:00 am - 12:00 pm |
| Sunday | Closed |
Testimonials
Fantastic buying experience
Indiana
6-5-2019
Top Notch
Forsyth, Illinois
1-25-2018
Amazing Staff
Oakwood, IL
1-11-2018
Good Selection of Buses
USA
1-8-2018
Midwest Transit is Awesome
Texas
10-17-2017
Congrats! You got a 5 Star Review
USA
8-26-2017
Congrats! You got a 5-Star Review
USA
7-17-2017
5-Star Review
USA
7-17-2017
Staff was the most friendly...
J.C. - R.C. Transportation
Richmond, Missouri
4-13-2017
Best Bus Dealer in North America
Chicago, Illinois
10-14-2016
Pleasure doing business with you!
Ron C - Managing Director & Board President
Louisville, KY
9-7-2016
Felt like Family
Bloomington, IL
7-1-2016
Excellent Service
6-1-2016
I love my new MV-1
Whiteland, IN
5-24-2016
Based on your Overall Experience would you recommend a purchase - YES!
San Diego, CA
5-16-2016
Excellent Job in Helping Us
West Chicago
4-23-2016
MV-1 Parts
Montana
4-22-2016
Congratulations
Lisle, Illinois
4-11-2016
Very Helpful
Illinois
4-6-2016
Buy all of our future vehicles through Midwest Transit
San Diego, CA
5-16-2016
Read More