Used Childcare Shuttle Buses near Chicago, IL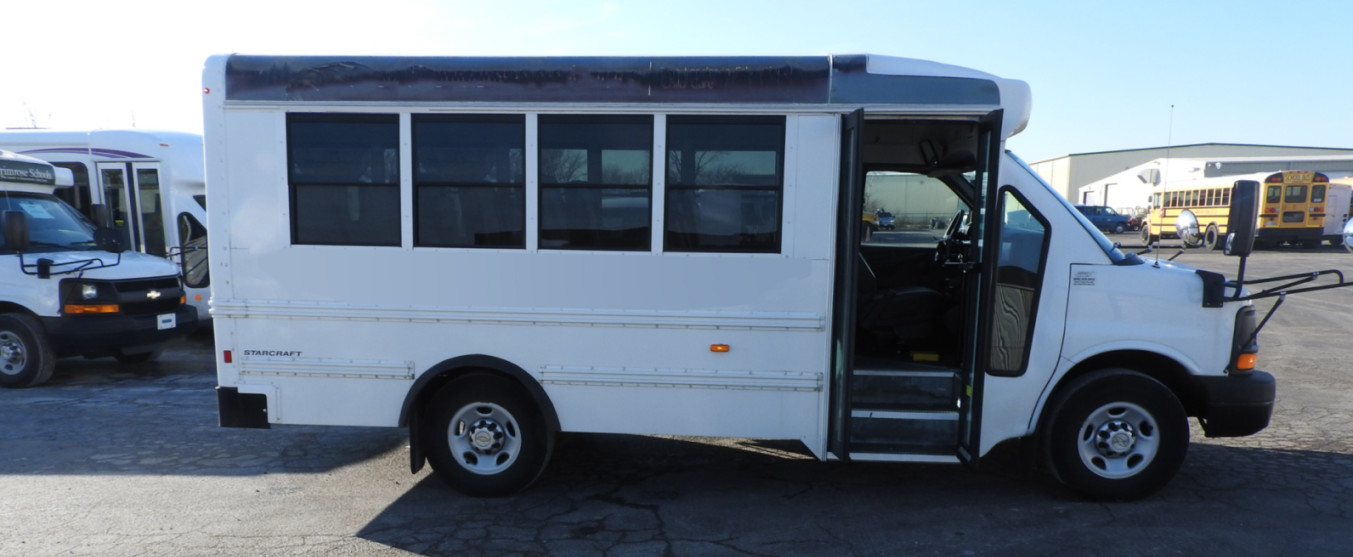 Whether you run a daycare center or kindergarten, getting the little ones around town is essential. From field trips to other outings, you rely on a shuttle bus to transport everyone in a safe manner. Thankfully, here at Midwest Transit, we have numerous used childcare shuttles on our sales lot that are competitively priced and ready to facilitate your organization's needs. If you'd like to learn more, contact us today!
Inspection Process
When the health and wellbeing of children are at stake, there's no room for error. Therefore, our Service Department goes to great lengths to carefully examine each and every shuttle bus that arrives at the dealership. After inspecting the engine, drivetrain, and other mechanics, we'll check out the interior and exterior to confirm that everything is in good condition and fully operational. That way, there's no reason to stress about safety whenever you're on the road. Instead, you can focus on keeping your young passengers entertained and engaged! To learn more about given a vehicle's history or ownership, just reach out to our staff.
Online Financing
If you're ready to take the plunge and commit to one of our pre-owned childcare shuttle buses, feel free to take advantage of the online Finance Application. Instead of having to fill out paperwork and wait around for responses here at the dealership, you can streamline your visit by taking care of this step at home. First, tell us about the model you're interested in and provide your contact information. Then, you'll need to include a few details to confirm your identity and qualifications, such as your SSN, DOB, and current financial obligations. Once you submit the form, our finance team will start seeking loans that fit your needs, so you can simply start reviewing your options as soon as you arrive.
Find Your Next Shuttle Bus
Those who aren't quite ready to apply for financing can still streamline their upcoming visit to Midwest Transit by making use of our Search Inventory page. Since there are a plethora of transportation categories, we suggest clicking on the "Bus Type" tab and choosing the corresponding filter, so you can clearly see each and every model currently in stock. Once you're on the results page, we even make it possible to narrow things down by the capacity, color, or price! As you're perusing your options, don't forget to click on any buses that seem like a good match to view photos and read about its specs.
To learn more about these used childcare shuttle buses near Chicago, IL, make your way over to Midwest Transit at your earliest convenience. We're already looking forward to working with you!

Sales Hours
(800) 933-2412
| | |
| --- | --- |
| Monday | 8:00 am - 5:00 pm |
| Tuesday | 8:00 am - 5:00 pm |
| Wednesday | 8:00 am - 5:00 pm |
| Thursday | 8:00 am - 5:00 pm |
| Friday | 8:00 am - 5:00 pm |
| Saturday | 8:00 am - 12:00 pm |
| Sunday | Closed |
Testimonials
Fantastic buying experience
Indiana
6-5-2019
Top Notch
Forsyth, Illinois
1-25-2018
Amazing Staff
Oakwood, IL
1-11-2018
Good Selection of Buses
USA
1-8-2018
Midwest Transit is Awesome
Texas
10-17-2017
Congrats! You got a 5 Star Review
USA
8-26-2017
Congrats! You got a 5-Star Review
USA
7-17-2017
5-Star Review
USA
7-17-2017
Staff was the most friendly...
J.C. - R.C. Transportation
Richmond, Missouri
4-13-2017
Best Bus Dealer in North America
Chicago, Illinois
10-14-2016
Pleasure doing business with you!
Ron C - Managing Director & Board President
Louisville, KY
9-7-2016
Felt like Family
Bloomington, IL
7-1-2016
Excellent Service
6-1-2016
I love my new MV-1
Whiteland, IN
5-24-2016
Based on your Overall Experience would you recommend a purchase - YES!
San Diego, CA
5-16-2016
Excellent Job in Helping Us
West Chicago
4-23-2016
MV-1 Parts
Montana
4-22-2016
Congratulations
Lisle, Illinois
4-11-2016
Very Helpful
Illinois
4-6-2016
Buy all of our future vehicles through Midwest Transit
San Diego, CA
5-16-2016
Read More