Special Needs Bus Lease Returns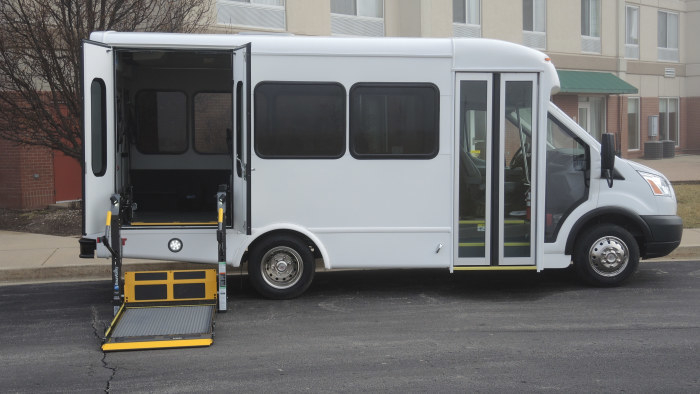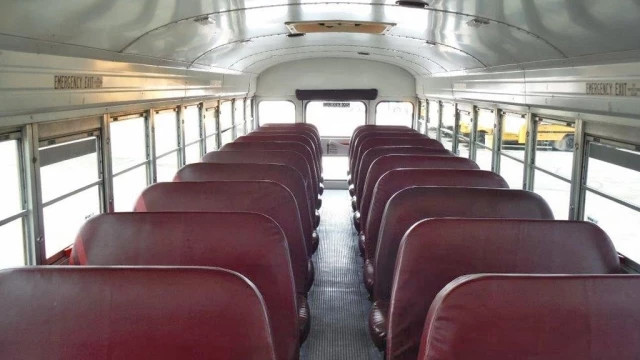 Sales Hours
(800) 933-2412
| | |
| --- | --- |
| Monday | 8:00 am - 5:00 pm |
| Tuesday | 8:00 am - 5:00 pm |
| Wednesday | 8:00 am - 5:00 pm |
| Thursday | 8:00 am - 5:00 pm |
| Friday | 8:00 am - 5:00 pm |
| Saturday | 8:00 am - 12:00 pm |
| Sunday | Closed |
Take advantage of special needs bus lease returns here at Midwest Transit. You have been entrusted with the responsibility of driving special needs individuals, a task that is not to be taken lightly. We want to make sure you have a bus that includes the proper equipment to get your passengers from A to B safely.
Here at Midwest Transit, we are familiar with special needs buses and all that they entail, which is why we offer buses with ramps, tie-downs, restraints, and anything else you may need. We are also versed in the Individuals with Disabilities Education Act (IDEA), which includes the transportation requirements for student with disabilities. Our expertise in this area ensures that all bases will be covered, no matter which bus you end up purchasing.
Making a selection from our special needs bus lease returns is easy. Simply go to our website and click on lease returns. Choose the image of whichever bus you want to learn more about and you will be taken to the inventory page. If you have a question, simply full out the Contact Information form or give us a call at 800-933-2412 and you will receive an answer shortly. Don't hesitate to reach out, as we are always happy to assist our customers.
When it comes to repairs, we are extremely reliable and efficient. If anything at all goes wrong with your bus, contact us immediately so we can take care of the issue. When you are trying to discern if any action should be taken, fill out our Ask a Tech form and one of our associates will get back to you in a timely manner. In every interaction, we will provide you with the top-notch customer service that sets us apart from the competition. We will also make sure nothing is overlooked in the care of your vehicle.
To find a Midwest Transit dealer near you, scroll to the very bottom of our homepage. There, you will see a map of our many locations and a small Contact Us form where you can choose your preferred dealer location, enter in your information, and write down any comments that you may have. As you will see, Midwest Transit covers a widespread region and has plenty of employees to serve you.
Our special needs bus lease returns are awaiting your arrival, here at your local Midwest Transit dealer. We are confident you will find what you're looking for, thanks to our generous selection of buses. Count on us for your vehicle needs and you will walk away satisfied every time!
Testimonials
Fantastic buying experience
Indiana
6-5-2019
Top Notch
Forsyth, Illinois
1-25-2018
Amazing Staff
Oakwood, IL
1-11-2018
Good Selection of Buses
USA
1-8-2018
Midwest Transit is Awesome
Texas
10-17-2017
Congrats! You got a 5 Star Review
USA
8-26-2017
Congrats! You got a 5-Star Review
USA
7-17-2017
5-Star Review
USA
7-17-2017
Staff was the most friendly...
J.C. - R.C. Transportation
Richmond, Missouri
4-13-2017
Best Bus Dealer in North America
Chicago, Illinois
10-14-2016
Pleasure doing business with you!
Ron C - Managing Director & Board President
Louisville, KY
9-7-2016
Felt like Family
Bloomington, IL
7-1-2016
Excellent Service
6-1-2016
I love my new MV-1
Whiteland, IN
5-24-2016
Based on your Overall Experience would you recommend a purchase - YES!
San Diego, CA
5-16-2016
Excellent Job in Helping Us
West Chicago
4-23-2016
MV-1 Parts
Montana
4-22-2016
Congratulations
Lisle, Illinois
4-11-2016
Very Helpful
Illinois
4-6-2016
Buy all of our future vehicles through Midwest Transit
San Diego, CA
5-16-2016
Read More