Shuttle Buses for Sale in Nixa, MO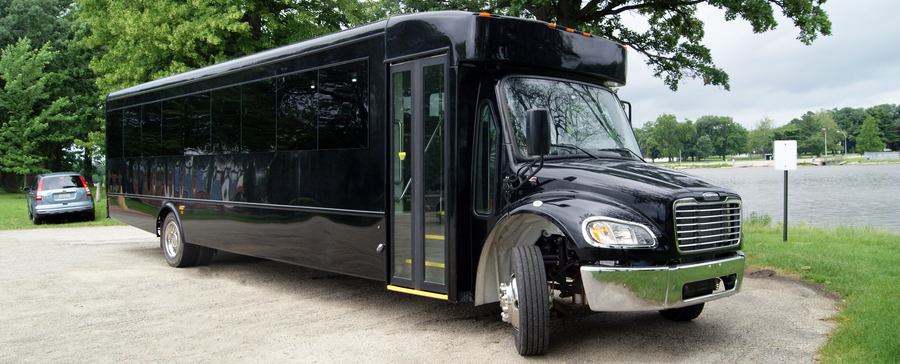 If you're looking to purchase a shuttle bus, you might think you're in for a challenge — after all, these aren't the most common vehicles on the road! But what if we told you that one of these rides could be yours with just one easy stop? All you need to do is visit Midwest Transit, where our huge fleet awaits! We offer more than just selection, providing plenty of online tools to aid you in your search as well as excellent financing options that you can explore once you've found the bus for you. Questions? Just contact us before you swing by!
Can I Finance a Shuttle Bus Purchase?
We'll begin by discussing the financing process, since the ins and outs of payment are probably on your mind. The bottom line is that you won't need to stress! Our straightforward and affordable financing options are designed to help you pay off your bus with ease. We'll do the legwork in setting up a loan plan with terms that are right for you, allowing you to chip away at the purchase price with monthly payments. You can project those installment amounts right now with our Payment Calculator, which will also give you a sense of your buying power. Ready to get going? Start the process right now with the Finance Application beneath the New Inventory tab on our website! Otherwise, simply stop in to see us or give us a call for more information.
Our Buses
You'd be hard-pressed to find a shuttle bus on most dealership lots, but at Midwest Transit, these vehicles are our specialty! Begin your search with the toolbar on top of our homepage by selecting either the New Inventory or Used Inventory dropdown depending on which you're shopping for. From here, you can go right to our stock of your preferred make, or see our entire selection all at once. If you're shopping for a used bus, you'll have some additional links at your disposal, allowing you to see our vehicles under $5,000 or $10,000 as well as those that we have listed as used vehicle specials. We make it easy for you to stay on budget, so be sure to explore all of your options!
Online Tools
There's plenty more assistance to be had on our website, beginning under the aforementioned New and Used Inventory tabs. Under each, you'll find a link to our Get a Quote form so that you can be armed with as much pricing information as possible. You can easily put a dent in the cost of your bus when you trade in a vehicle and put its value towards your purchase — check out the Value Your Trade-In form to get an idea of how much your car is worth and to let us know that you're interested in bringing it by. We also want to mention our online Service Department, which features tools to help you make an appointment, ask a tech, and learn about any active vehicle recalls. Don't forget to check for valuable maintenance coupons!
Midwest Transit is truly a one-stop shop, so you can begin and end your search for shuttle buses for sale in Nixa, MO, on our lot. We're excited to show you everything we have to offer! Don't hesitate to plan your visit as soon as you're able.
Sales & Service Hours
(800) 462-0173
| | |
| --- | --- |
| Monday | 8:00 am - 5:00 pm |
| Tuesday | 8:00 am - 5:00 pm |
| Wednesday | 8:00 am - 5:00 pm |
| Thursday | 8:00 am - 5:00 pm |
| Friday | 8:00 am - 5:00 pm |
| Saturday | 8:00 am - 12:00 pm |
| Sunday | Closed |
Testimonials
Fantastic buying experience
Indiana
6-5-2019
Top Notch
Forsyth, Illinois
1-25-2018
Amazing Staff
Oakwood, IL
1-11-2018
Good Selection of Buses
USA
1-8-2018
Midwest Transit is Awesome
Texas
10-17-2017
Congrats! You got a 5 Star Review
USA
8-26-2017
Congrats! You got a 5-Star Review
USA
7-17-2017
5-Star Review
USA
7-17-2017
Staff was the most friendly...
J.C. - R.C. Transportation
Richmond, Missouri
4-13-2017
Best Bus Dealer in North America
Chicago, Illinois
10-14-2016
Pleasure doing business with you!
Ron C - Managing Director & Board President
Louisville, KY
9-7-2016
Felt like Family
Bloomington, IL
7-1-2016
Excellent Service
6-1-2016
I love my new MV-1
Whiteland, IN
5-24-2016
Based on your Overall Experience would you recommend a purchase - YES!
San Diego, CA
5-16-2016
Excellent Job in Helping Us
West Chicago
4-23-2016
MV-1 Parts
Montana
4-22-2016
Congratulations
Lisle, Illinois
4-11-2016
Very Helpful
Illinois
4-6-2016
Buy all of our future vehicles through Midwest Transit
San Diego, CA
5-16-2016
Read More