Mobility Vehicles for Sale in Illinois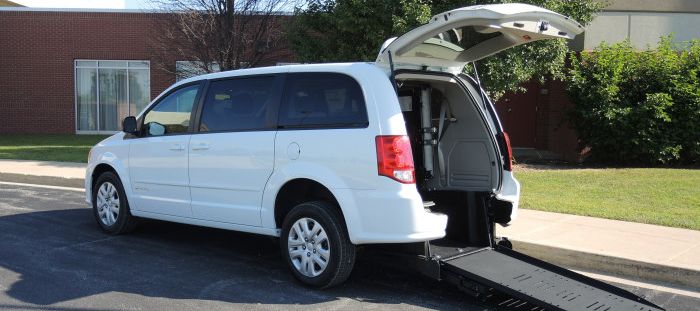 2017 Dodge Caravan with optional mobility features
When you're the caretaker of an individual with mobility limitations, it can be difficult to get around outside of your house. At Midwest Transit Equipment, we want to help you take care of your loved one to the best of your ability, so we stock plenty of mobility vehicles on our lot so you can choose one that fits your needs. Speak with a friendly member of our staff today by dialing 800-933-2412!
Our lot has a number of vehicles for you to look at that can handle a mix of passengers and wheelchairs. Whether you're interested in new or used, we have what you're looking for. We offer both side entry and rear entry so you can choose the easiest method for you and your loved ones, and we offer multiple ramp-based modifications depending upon your needs. You'll likely need tie-downs and securements for wheelchairs, and we're more than happy to help you find the perfect set-up. Between doctor's appointments and fun outings, it's crucial that getting your disabled loved one out of the house be as easy as possible — even if you're doing it on your own. We offer both manual and automatic options, depending on your preference, and our staff can list the pros and cons of each so that you can make an informed decision on which you'll go with. We're also up-to-date on all requirements from the ADA FMVSS, and CMVSS, so you can buy from us with confidence!
On top of our well-stocked inventory, we do the very best we can to make the cost of our mobility vehicles manageable. We'll help you navigate all of the rebates, as well as craft a financing plan that won't break your budget. Speak to a financing specialist about your options and we'll use our well-nurtured connections with local banks and lending institutions to acquire the best monthly payment and lowest APR we can! We also have a full-service parts department and repair center that's happy to take care of everything from routine services to larger jobs. You can use our online form to schedule an appointment or call in to secure your time — it's that easy!
At Midwest Transit Equipment, we don't just sell parts. We have a wide variety of mobility vehicles for sale in Illinois that can make your life easier and disabled loved one's life healthier. Visit one of our multiple locations across the Midwest during any of our convenient business hours Monday through Saturday!
Testimonials
Fantastic buying experience
Indiana
6-5-2019
Top Notch
Forsyth, Illinois
1-25-2018
Amazing Staff
Oakwood, IL
1-11-2018
Good Selection of Buses
USA
1-8-2018
Midwest Transit is Awesome
Texas
10-17-2017
Congrats! You got a 5 Star Review
USA
8-26-2017
Congrats! You got a 5-Star Review
USA
7-17-2017
5-Star Review
USA
7-17-2017
Staff was the most friendly...
J.C. - R.C. Transportation
Richmond, Missouri
4-13-2017
Best Bus Dealer in North America
Chicago, Illinois
10-14-2016
Pleasure doing business with you!
Ron C - Managing Director & Board President
Louisville, KY
9-7-2016
Felt like Family
Bloomington, IL
7-1-2016
Excellent Service
6-1-2016
I love my new MV-1
Whiteland, IN
5-24-2016
Based on your Overall Experience would you recommend a purchase - YES!
San Diego, CA
5-16-2016
Excellent Job in Helping Us
West Chicago
4-23-2016
MV-1 Parts
Montana
4-22-2016
Congratulations
Lisle, Illinois
4-11-2016
Very Helpful
Illinois
4-6-2016
Buy all of our future vehicles through Midwest Transit
San Diego, CA
5-16-2016
Read More