Limo Buses for Sale in Kankakee, IL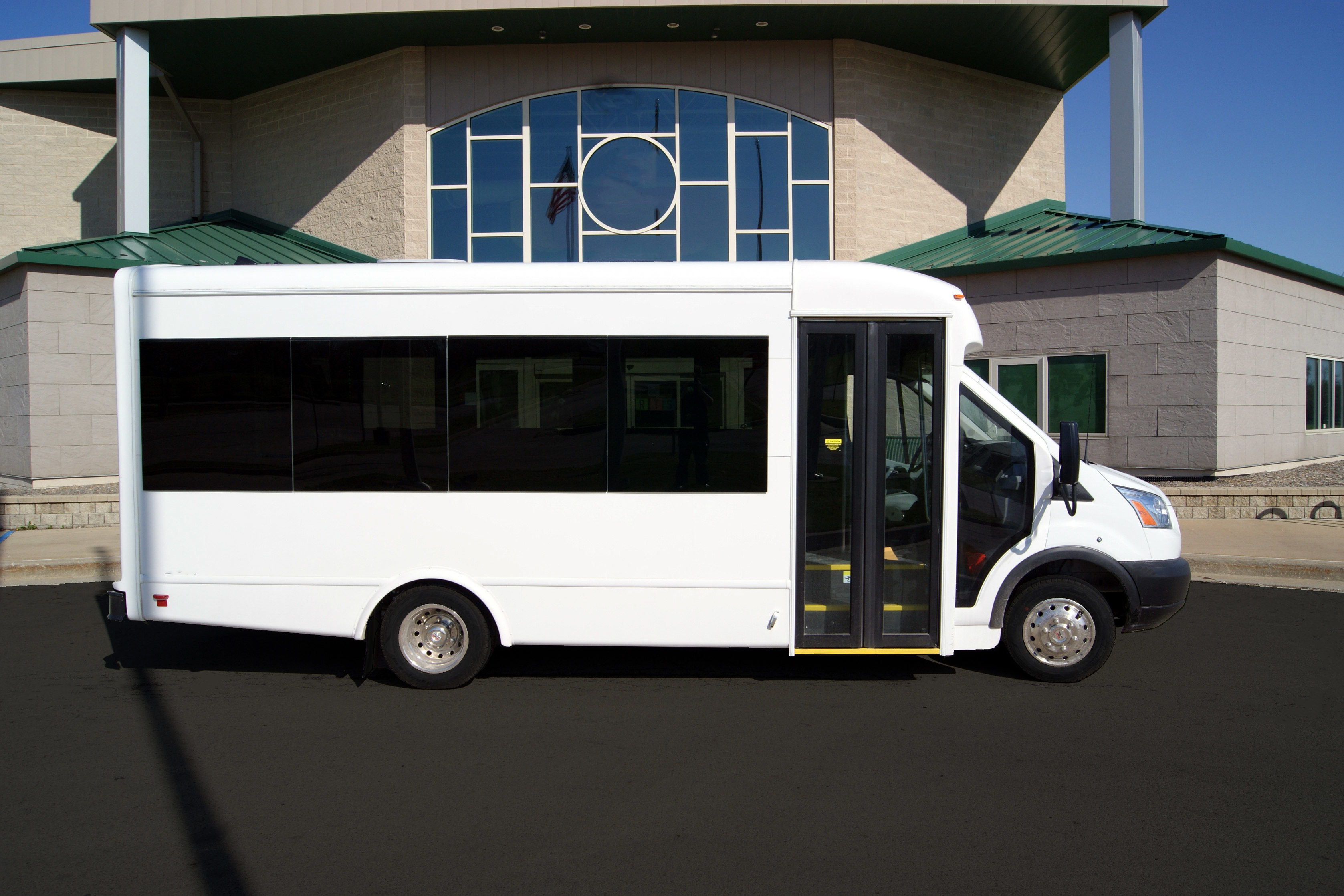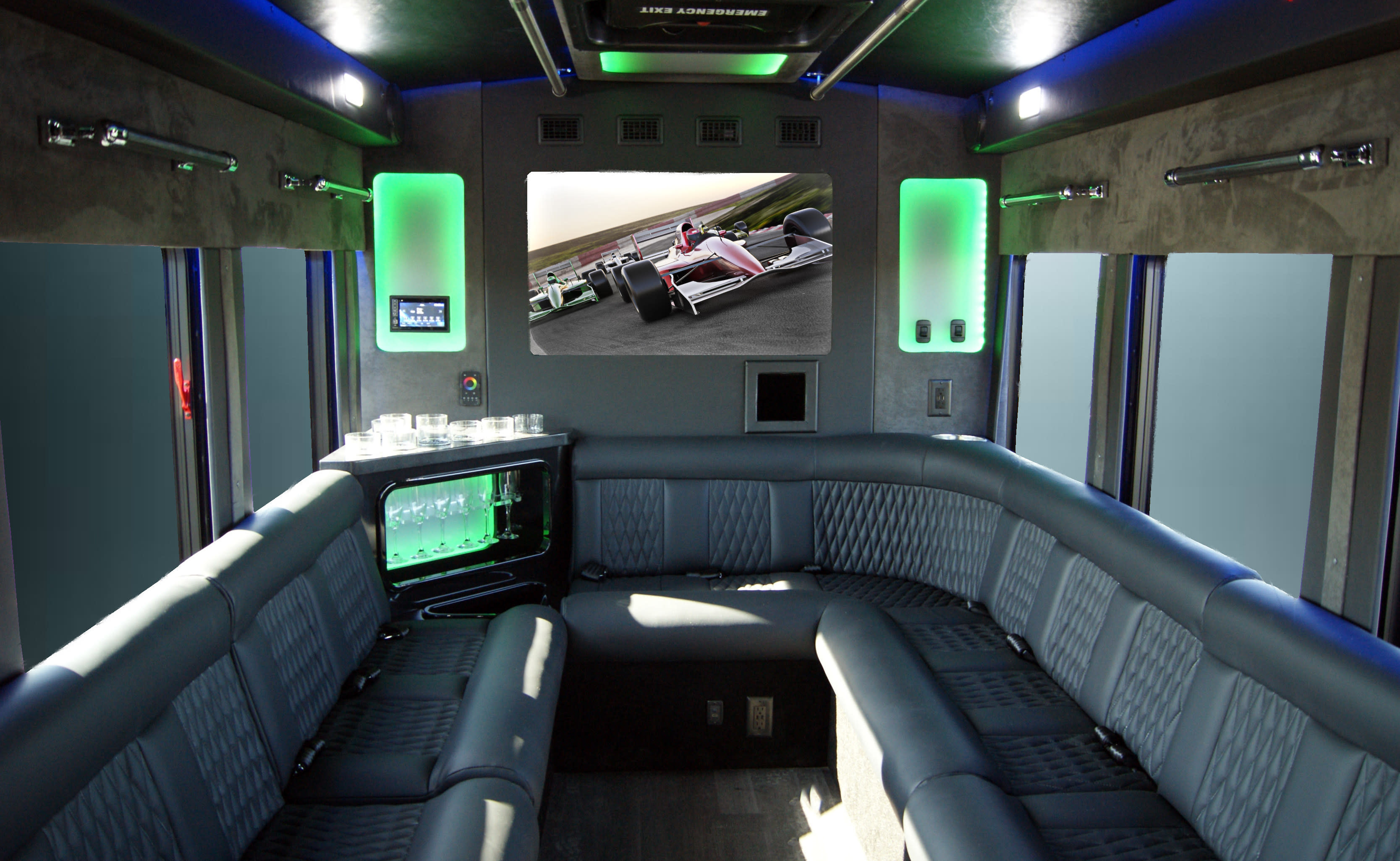 Whether your business needs a top-notch mode of transportation or you simply want to roll in style, we have plenty of limo buses to choose from here at Midwest Transit. This way, you can keep your clients comfortable and tended to. When you are ready to sift through our various top-notch models from recent years, tap into our online features, then make your way down to our location as soon as your schedule permits. You can find us at 146 West Issert Drive in Kankakee, IL.
Limo Buses
Before we look into our online features and how you can benefit from our intuitive tools, let's take a glimpse at the driving options that we have in stock. We include popular manufacturers like Ford, International, and Mercedes-Benz, so you will be able to find a set of wheels that fulfills your passengers' needs. For the lap of luxury, the Ford Starcraft Executive Series Limo includes seating for up to 18 passengers and also boasts a rear luggage compartment, so nobody has to leave anything behind. There won't be a shortage of entertainment, because some of our options come equipped with a 42-inch television to display content. And, with RGB lighting and a custom corner bar, your clients will be able to set the tone for their night out!
Inventory
You can start your search for the perfect limo bus by simply clicking the Bus Type icon at the top of your screen and selecting the corresponding icon on the following page. After that, you will promptly be sent to a page where you can filter your options down by using the Narrow Your Search tool located on the left side of your screen. Here, you can input your seating capacity needs, price point, and body style, so you can create your dream limo in a matter of seconds. Once that is accomplished, feel free to sort through the photos to become more familiar with what each bus has to offer. Then, you can read the short paragraph beneath each listing to find out the engine type, storage capabilities, and technology that come equipped. If you think you have found the right one, give us a call to schedule a test drive.
Online Features
If you think you have found the limo bus that sparks your interest, you can get the buying process started ahead of time by using some of the handy tools that we have right here on our website. For example, the Finance Application will help you get some paperwork completed ahead of time, so you can limit your time spent at our location. Once we receive your inquiry, we will start getting your loan options together, so they can be ready the moment you walk through our doors. Bear in mind, you can offset the cost of your prospective set of wheels by using the Value Your Trade form!
Come check out our limo buses for sale in Kankakee, IL, today at Midwest Transit. If you have any pending questions, make sure to contact us at your earliest convenience.
Sales Hours
(800) 933-2412
| | |
| --- | --- |
| Monday | 8:00 am - 5:00 pm |
| Tuesday | 8:00 am - 5:00 pm |
| Wednesday | 8:00 am - 5:00 pm |
| Thursday | 8:00 am - 5:00 pm |
| Friday | 8:00 am - 5:00 pm |
| Saturday | 8:00 am - 12:00 pm |
| Sunday | Closed |
Testimonials
Fantastic buying experience
Indiana
6-5-2019
Top Notch
Forsyth, Illinois
1-25-2018
Amazing Staff
Oakwood, IL
1-11-2018
Good Selection of Buses
USA
1-8-2018
Midwest Transit is Awesome
Texas
10-17-2017
Congrats! You got a 5 Star Review
USA
8-26-2017
Congrats! You got a 5-Star Review
USA
7-17-2017
5-Star Review
USA
7-17-2017
Staff was the most friendly...
J.C. - R.C. Transportation
Richmond, Missouri
4-13-2017
Best Bus Dealer in North America
Chicago, Illinois
10-14-2016
Pleasure doing business with you!
Ron C - Managing Director & Board President
Louisville, KY
9-7-2016
Felt like Family
Bloomington, IL
7-1-2016
Excellent Service
6-1-2016
I love my new MV-1
Whiteland, IN
5-24-2016
Based on your Overall Experience would you recommend a purchase - YES!
San Diego, CA
5-16-2016
Excellent Job in Helping Us
West Chicago
4-23-2016
MV-1 Parts
Montana
4-22-2016
Congratulations
Lisle, Illinois
4-11-2016
Very Helpful
Illinois
4-6-2016
Buy all of our future vehicles through Midwest Transit
San Diego, CA
5-16-2016
Read More