Hotel Shuttle Buses for Sale in Kankakee, IL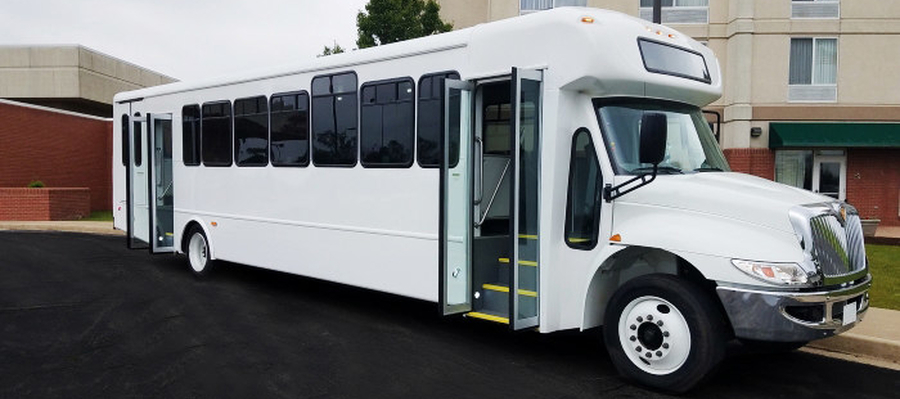 In the market for a hotel shuttle bus but not quite sure where to find such a unique vehicle? You've come to the right place! Midwest Transit is home to a wide range of these driving options, which are sure to fit the bill if you're looking to transport plenty of passengers in comfort and style. And with our affordable financing options, leaving our lot with the ideal hotel shuttle bus is easier than you ever thought possible! Stop by today during our convenient business hours.
Our Hotel Shuttle Bus Selection
You'll be astounded by just how extensive our selection of hotel shuttle buses is! Whether you know exactly what you're looking for or you're hoping to browse around a bit, our lot is the place to be. And no matter your budget, we can accommodate you, because our buses run the gamut from quality used vehicles to the latest factory-fresh rides with the most advanced features and designs available. Get started right from your couch by navigating our handy website — at the top, you'll see drop-downs that will take you to our new inventory or our used selection, while the Bus Type tab lets you browse based on the particular vehicle style you're after.
Narrowing Your Search
Once you've taken the first step and know where you want to begin your hunt, it's time to home in on that ideal hotel shuttle bus. That's where our Narrow Your Search tool comes in! Once you've arrived at our inventory page, you'll notice a long panel on the left side of your screen with plenty of filtering options. Here, you can choose to see only those vehicles that meet your particular requirements. Filter by categories like make, model, year, price, and mileage, or by specific components like engine type, fuel type, color, and seating capacity. Be sure to click on any bus that catches your eye for photos and additional specs. Now, all you need to do is jot down your contenders and come meet them in person at our dealership!
Financing
At Midwest Transit, we know that purchasing one of our vehicles requires some thoughtful financial planning. And because we have so much experience selling these robust rides, you can trust our helpful and experienced staff to walk you through the process! Many of our customers enroll in a financing plan in order to spread out the cost of their purchase into monthly payments, avoiding the budget-busting that a lump sum payment can cause. We'll help you decipher your loan terms and the down payment math, so you can be confident in your plan. Why not get started right now by filling out a Finance Application on our website?
Have you been wondering where you can find hotel shuttle buses for sale in Kankakee, IL? You have your answer! Midwest Transit is proud to provide the selection and service that sets us apart in this specialized area of vehicle sales. But you don't have to take our word for it — stop by soon and see for yourself!
Sales Hours
(800) 933-2412
| | |
| --- | --- |
| Monday | 8:00 am - 5:00 pm |
| Tuesday | 8:00 am - 5:00 pm |
| Wednesday | 8:00 am - 5:00 pm |
| Thursday | 8:00 am - 5:00 pm |
| Friday | 8:00 am - 5:00 pm |
| Saturday | 8:00 am - 12:00 pm |
| Sunday | Closed |

Testimonials
Fantastic buying experience
Indiana
6-5-2019
Top Notch
Forsyth, Illinois
1-25-2018
Amazing Staff
Oakwood, IL
1-11-2018
Good Selection of Buses
USA
1-8-2018
Midwest Transit is Awesome
Texas
10-17-2017
Congrats! You got a 5 Star Review
USA
8-26-2017
Congrats! You got a 5-Star Review
USA
7-17-2017
5-Star Review
USA
7-17-2017
Staff was the most friendly...
J.C. - R.C. Transportation
Richmond, Missouri
4-13-2017
Best Bus Dealer in North America
Chicago, Illinois
10-14-2016
Pleasure doing business with you!
Ron C - Managing Director & Board President
Louisville, KY
9-7-2016
Felt like Family
Bloomington, IL
7-1-2016
Excellent Service
6-1-2016
I love my new MV-1
Whiteland, IN
5-24-2016
Based on your Overall Experience would you recommend a purchase - YES!
San Diego, CA
5-16-2016
Excellent Job in Helping Us
West Chicago
4-23-2016
MV-1 Parts
Montana
4-22-2016
Congratulations
Lisle, Illinois
4-11-2016
Very Helpful
Illinois
4-6-2016
Buy all of our future vehicles through Midwest Transit
San Diego, CA
5-16-2016
Read More