Disability Bus Parts for Sale at Midwest Transit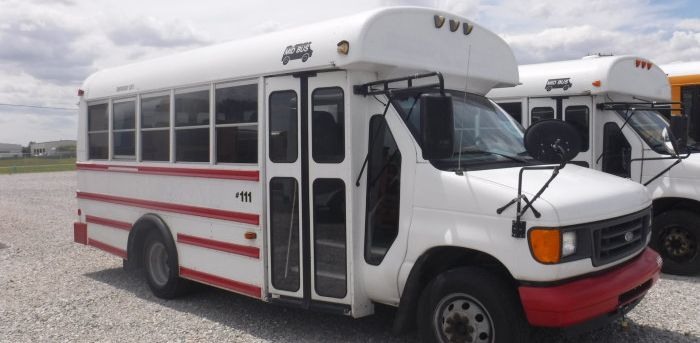 Used 2004 Ford Mid Bus
When your passengers are disabled, we know that you want to provide everything single thing they need. Choose us at Midwest Transit for disability bus parts that you can count on. We have 10 million dollars worth of parts inventory at any given time in our eight huge warehouses dotted across the Midwest. Whether you're based out of Indiana, Michigan, Missouri, or Illinois, we have a location near you ready and waiting with helpful, knowledgeable staff members that can't wait to help. If you have questions prior to coming in, please don't hesitate to contact us. We're available over Live Chat, which you can access from the bottom, right-hand side of the screen, over the phone, toll free, at 800-933-2412, or over email using [email protected]!
Transporting disabled people requires a whole new set of tools and features. It needs an entirely different type of bus, and that means you want a dealership that doesn't limit themselves based on year, make, or model. At Midwest Transit, we supply, service, and sell vehicles of every brand and are consistently prepared for anything our clients need. Whether you're converting your current bus and are looking wheelchair restraints, want to add extra-special amenities like portable car seats, or need a system track and floor plates, we're the people to talk to.
We have 41 years of experience — and counting — under our belts and have no intentions of cutting off soon. Buses are our passion, and we love to pass all of our knowledge on to you! Maintaining and repairing your own bus is never easy, so we try to help in every way we can. We have monthly parts specials that are constantly rotating, so it's simple to find a good deal on what you need. We offer all of the brand-name parts that you prefer, like Cummins®, STARCROFT, and many more. If you're not located close enough by one of our dealerships to pick up the part personally, we offer nationwide, same-day shipping that you can take advantage of at any time. You need parts like vests and accessories pronto, so just tell us what you need and we'll get it to you as quickly as possible!
Do you need disability bus parts for sale at Midwest Transit? Not a problem. With so much in stock, we're more than likely to have what you need. We're the leading supplier of aftermarket bus parts in the USA, and we're proud to hold that title! Take advantage of our experience today!
Kansas City Parts Center Hours
(866) 725-9339
| | |
| --- | --- |
| Monday | 8:00 am - 5:00 pm |
| Tuesday | 8:00 am - 5:00 pm |
| Wednesday | 8:00 am - 5:00 pm |
| Thursday | 8:00 am - 5:00 pm |
| Friday | 8:00 am - 5:00 pm |
| Saturday | 8:00 am - 12:00 pm |
| Sunday | Closed |
Testimonials
Fantastic buying experience
Indiana
6-5-2019
Top Notch
Forsyth, Illinois
1-25-2018
Amazing Staff
Oakwood, IL
1-11-2018
Good Selection of Buses
USA
1-8-2018
Midwest Transit is Awesome
Texas
10-17-2017
Congrats! You got a 5 Star Review
USA
8-26-2017
Congrats! You got a 5-Star Review
USA
7-17-2017
5-Star Review
USA
7-17-2017
Staff was the most friendly...
J.C. - R.C. Transportation
Richmond, Missouri
4-13-2017
Best Bus Dealer in North America
Chicago, Illinois
10-14-2016
Pleasure doing business with you!
Ron C - Managing Director & Board President
Louisville, KY
9-7-2016
Felt like Family
Bloomington, IL
7-1-2016
Excellent Service
6-1-2016
I love my new MV-1
Whiteland, IN
5-24-2016
Based on your Overall Experience would you recommend a purchase - YES!
San Diego, CA
5-16-2016
Excellent Job in Helping Us
West Chicago
4-23-2016
MV-1 Parts
Montana
4-22-2016
Congratulations
Lisle, Illinois
4-11-2016
Very Helpful
Illinois
4-6-2016
Buy all of our future vehicles through Midwest Transit
San Diego, CA
5-16-2016
Read More