Bus and Van Body Shop in Kankakee, IL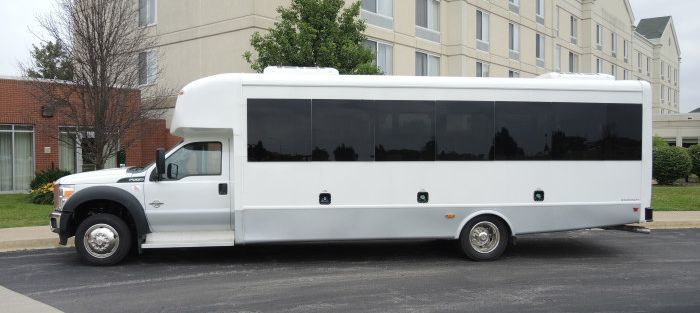 Service Hours
| | |
| --- | --- |
| Monday | 7:00 am - 4:30 pm |
| Tuesday | 7:00 am - 4:30 pm |
| Wednesday | 7:00 am - 4:30 pm |
| Thursday | 7:00 am - 4:30 pm |
| Friday | 7:00 am - 4:30 pm |
| Saturday | 8:00 am - 5:00 pm |
| Sunday | Closed |
When you bring your bus or van into Midwest Transit, be prepared to get the best service at affordable prices. Whether you need an oil change or a part replacement, our skilled technicians are here to serve you in every way they can. We have a vast Parts Department that allows us to service your bus or van for most technical issues and replace outdated aspects of your vehicle. Let our technicians service you at our bus and van body shop in Kankakee, IL, and you'll be back on the road in no time behind the wheel of a safer vehicle.
You should absolutely take your vehicle in for maintenance checks with us as often as possible. We recommend monthly service upkeep, so you can make sure your vehicle is operating efficiently at all times. Often times, dangerous issues can occur under the hood or in places you wouldn't normally check on an everyday basis. Bringing your bus or van in on a regular schedule helps minimize these unseen issues and prevent more from happening in the future.
Our Service Department is fully staffed with intelligent technicians who are readily available to fix up your vehicle, whatever the issue is. Give us the opportunity to service your bus or van and have it running fully functionally on your route down South Schuyler Avenue. Under the Service tab on the bar across the top of your screen, we advertise our ongoing specials and deals, so make sure to check those out to see if you can apply any to the service you're looking to have done. Our technicians will help you get the maintenance you need or we'll let you know if the issue is something you could probably handle on your own.
Before you stop by our bus and van body shop in Kankakee, IL, feel free to get some sense of what you're coming in for by utilizing our Ask a Tech form. Fill out a few details about the issues you're having with your bus or van, and one of our knowledgeable technicians will respond as quickly as possible with a detailed answer to your questions. If you're looking for an even quicker reply to your inquiries, click on the Live Chat tab in the bottom right corner of the screen, and you'll be connected to one of our staff members, so you can converse with them in real-time. You'll be able to get a feel for what's wrong with your vehicle before you bring it in, so when you're ready, make sure to click on the Schedule Appointment link on our website, and fill out the form to find a time to come in that best suits you. You can also give us a call at 800-933-2412 to schedule your visit or to ask us any questions you may have.
Visit Midwest Transit today when you stop in for a complete service at our bus and van body shop in Kankakee, IL, and let our skilled technicians keep your vehicle up-to-date. We can quickly diagnose the problems you're having and resolve the issue by replacing old parts or fixing up your vehicle. Give us the opportunity to serve you when you come into our body shop, located at 146 W. Issert Drive in Kankakee, IL!