SafeGuard® Bus Parts for Sale in Missouri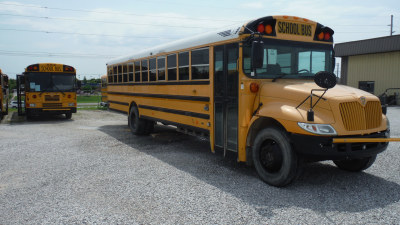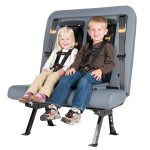 Top Image: Used 2006 IC CE
Driving a bus is a huge responsibility, and we at Midwest Transit Equipment are always on a mission to make it as safe and easy as possible. It's one of the reasons that we really encourage all bus drivers and fleet owners to consider SafeGuard® bus parts.
Created by IMMI, the wide variety of bus seats, all boasting seatbelts, are by far the most hassle-free way to provide the ultimate protection for your students. Whether you're interested in purchasing a bus with these seats already installed or are looking to retrofit your current bus, we're here to help, so give us a call, toll free, at 800-933-2412 today! The only safety measures on standard, non-belts bus seats is compartmentalization. Basically, it's the height and closeness of the seat backs that offer the protection. However, if a student is not sitting, face-forward, with both feet on the ground, fully shielded by the seatback ahead of them, the effectiveness reduces significantly in the event of a front collision. There's no safety against bus rollover at all.
SafeGuard® seats change all of that. The three-point belt system is ideal for keeping students in their seats, and it's effective even if they're not sitting properly. Seat belts offer protection against rollover, too, should the worst happen. Not only does this addition to buses increase safety, but it also reduces rowdy behavior. It's one bus driver versus 50 plus students, and you're expected to make sure everyone is in their seats properly, not wandering the aisle, and ensure that there's no bullying going on — that's a hefty list for one person, not to mention that you're supposed to be navigating the streets! Seat belts significantly improve behavior and allow you to keep your eyes where they belong: the road ahead.
Concerns when adding seat belts often have to do with capacity, and we would never want you to have to reduce the number of students your bus can handle — it's one of the reasons we really like SafeGuard®. Their FlexSeat option can seat three elementary school children or two high school children, providing seat belts for both configurations hassle-free. They also have integrated child seats with 5-point harnesses for the very young passengers, as well as special needs options!
Come visit us Midwest Transit Equipment today and explore your options. We proudly have SafeGuard® Bus Parts for sale in Missouri and we're always happy to show them off. We hope to see you soon!
Testimonials
Midwest Transit is Awesome
Texas
October 17, 2017
Congrats! You got a 5 Star Review
USA
August 26, 2017
Congrats! You got a 5-Star Review
USA
July 17, 2017
5-Star Review
USA
July 17, 2017
Staff was the most friendly...
J.C. - R.C. Transportation
Richmond, Missouri
April 13, 2017
Best Bus Dealer in North America
Chicago, Illinois
October 14, 2016
Pleasure doing business with you!
Ron C - Managing Director & Board President
Louisville, KY
September 7, 2016
Felt like Family
Bloomington, IL
July 1, 2016
Excellent Service
June 1, 2016
I love my new MV-1
Whiteland, IN
May 24, 2016
Based on your Overall Experience would you recommend a purchase - YES!
San Diego, CA
May 16, 2016
Excellent Job in Helping Us
West Chicago
April 23, 2016
MV-1 Parts
Montana
April 22, 2016
Congratulations
Lisle, Illinois
April 11, 2016
Very Helpful
Illinois
April 6, 2016
Buy all of our future vehicles through Midwest Transit
San Diego, CA
May 16, 2016
Great Deal
Fort Polk, Louisiana
April 4, 2016
Congratulations Once Again
Lisle, Illinois
April 11, 2016
Highly Recommended
Battle Creek, Michigan
April 4, 2016
People are great to work with...
Springfield, Illinois
April 4, 2016
Read More