SafeGuard® Bus Parts for Sale in Kansas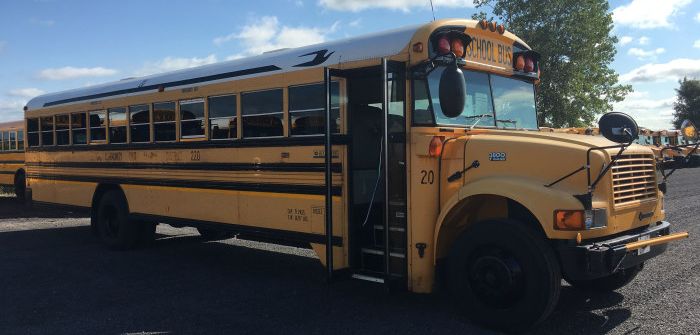 When you're in charge of dozens of young students, you want to offer the best protection possible. At Midwest Transit Equipment, we're here to help you do just that. We sell SafeGuard® bus parts and we're proud to do so — these seats all come with three-point seat belts and offer hassle-free versatility that every bus driver will love. Give us a call, toll free, at 800-933-2412 to speak with a knowledgeable member of our staff today!
A lot happens aboard every school bus. With 50 plus students per one bus driver, there's a lot to pay attention to. If the kids aren't sitting properly in their seats then the one protection they have against a frontal collision, compartmentalization, is defeated, and yet they roam the aisles and sit half out of their seats. With so much freedom, there's also an inclination to speak with students from seats farther back or ahead, and even more of a propensity for bullying. Tall, close seat backs can only do so much when there's nothing holding a student in them. Not to mention that there's no protection in the event of the very worst: a full rollover accident. This is all a lot to ask of one person, not to mention that person trying to navigate the roads!
One of the best ways to reduce distraction while driving is to purchase a bus with seat belts or to retrofit your current bus with them. SafeGuard® is an excellent company to use for this process. Created my IMMI, they do their own crash testing to complement the ones done by the NHTSA, and there's a clear result: seat belts increase safety on school buses exponentially. SafeGuard® seats go the extra mile, though. Using SmartFrame technology, these innovative seats enhance compartmentalization to increase safety for both belted and unbelted passengers — because there will always be that student who refuses to buckle up. The XChange seating option is ideal for changing around on-the-go, since it allows you to add, reconfigure, or even integrate child seats — it does all this without reducing your bus capacity, too! FlexSeats can fit three elementary school students or two high schoolers, and SafeGuard® has multiple options for special needs students, as well!
At Midwest Transit Equipment, we love helping our clients optimize their buses for the ultimate safety and protection. Visit one of multiple locations across the Midwest during any of our convenient business hours Monday through Saturday. Our friendly staff will assist you in figuring out where to begin when it comes to choosing SafeGuard® bus part in Missouri!
Testimonials
Midwest Transit is Awesome
Texas
October 17, 2017
Congrats! You got a 5 Star Review
USA
August 26, 2017
Congrats! You got a 5-Star Review
USA
July 17, 2017
5-Star Review
USA
July 17, 2017
Staff was the most friendly...
J.C. - R.C. Transportation
Richmond, Missouri
April 13, 2017
Best Bus Dealer in North America
Chicago, Illinois
October 14, 2016
Pleasure doing business with you!
Ron C - Managing Director & Board President
Louisville, KY
September 7, 2016
Felt like Family
Bloomington, IL
July 1, 2016
Excellent Service
June 1, 2016
I love my new MV-1
Whiteland, IN
May 24, 2016
Based on your Overall Experience would you recommend a purchase - YES!
San Diego, CA
May 16, 2016
Excellent Job in Helping Us
West Chicago
April 23, 2016
MV-1 Parts
Montana
April 22, 2016
Congratulations
Lisle, Illinois
April 11, 2016
Very Helpful
Illinois
April 6, 2016
Buy all of our future vehicles through Midwest Transit
San Diego, CA
May 16, 2016
Great Deal
Fort Polk, Louisiana
April 4, 2016
Congratulations Once Again
Lisle, Illinois
April 11, 2016
Highly Recommended
Battle Creek, Michigan
April 4, 2016
People are great to work with...
Springfield, Illinois
April 4, 2016
Read More