SafeGuard® Bus Parts for Sale in Illinois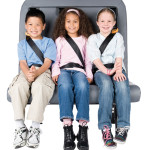 When you're in charge of transporting multiple people, it can definitely be nerve-wracking. You can count us at Midwest Transit Equipment to provide everything you need to keep your occupants safe, such as SafeGuard® bus parts! Our knowledgeable staff members are happy to discuss any questions you may have during any of our convenient business hours Monday through Saturday, or dial us up, toll free, at 800-933-2412!
SafeGuard® is proven and trusted, and we 100 percent back their mission to provide higher levels of safety on school, church, and general transportation buses. Not only does equipping your bus with seatbelts add an extra layer of protection to every journey, it can also improve the behavior of younger occupants at the same time. SafeGuard® SmartFrame technology is particularly beneficial for school buses since it provides security for your belted passengers, but it boasts enhanced compartmentalization for those kids that may refuse to buckle up. Either way, it's a win-win situation for you.
Choosing SmartFrame technology for your bus doesn't pigeonhole you, either, since SafeGuard® products are all built on a common platform, meaning you switch out and reconfigure belts to your liking. You can also opt for the FlexSeat, which won't reduce your bus capacity. Fitting three middle-schoolers or two high school students, these seats are ideal for school bus drivers who are in charge of a whole host of young people. There are even integrated child seat options for a few different bus types if you carry around very young passengers!
We've been talking about the options, but we at Midwest Transit want to reinforce why upgrading your bus with three-point seatbelts should really be on your to-do list. The NHTSA, Academy of Pediatrics, and NASDPTS all back using three-shoulder seatbelts to keep youth throughout the country safe — it's undeniable that the benefits are massive in the event of even a fender bender. Should your bus roll, it becomes even more distinct why seatbelts are a must-have. The benefits go further than that, too. Without having to worry about students standing, bullying, or taking part in any other raucous behavior, the bus drivers can feel more comfortable keeping their eyes on the road rather than an eye on their massive number of charges. They're easy to use, too, adjusting to multiple shapes and sizes without a fuss.
Come to Midwest Transit today and talk with a knowledgeable member of our staff about buying a bus with SafeGaurd® bus parts in Illinois today, or about retrofitting your current vehicle. We're conveniently located at 1701 Birchwood Ave. in Des Plaines, IL. Swing by soon!
Testimonials
Midwest Transit is Awesome
Texas
October 17, 2017
Congrats! You got a 5 Star Review
USA
August 26, 2017
Congrats! You got a 5-Star Review
USA
July 17, 2017
5-Star Review
USA
July 17, 2017
Staff was the most friendly...
J.C. - R.C. Transportation
Richmond, Missouri
April 13, 2017
Best Bus Dealer in North America
Chicago, Illinois
October 14, 2016
Pleasure doing business with you!
Ron C - Managing Director & Board President
Louisville, KY
September 7, 2016
Felt like Family
Bloomington, IL
July 1, 2016
Excellent Service
June 1, 2016
I love my new MV-1
Whiteland, IN
May 24, 2016
Based on your Overall Experience would you recommend a purchase - YES!
San Diego, CA
May 16, 2016
Excellent Job in Helping Us
West Chicago
April 23, 2016
MV-1 Parts
Montana
April 22, 2016
Congratulations
Lisle, Illinois
April 11, 2016
Very Helpful
Illinois
April 6, 2016
Buy all of our future vehicles through Midwest Transit
San Diego, CA
May 16, 2016
Great Deal
Fort Polk, Louisiana
April 4, 2016
Congratulations Once Again
Lisle, Illinois
April 11, 2016
Highly Recommended
Battle Creek, Michigan
April 4, 2016
People are great to work with...
Springfield, Illinois
April 4, 2016
Read More