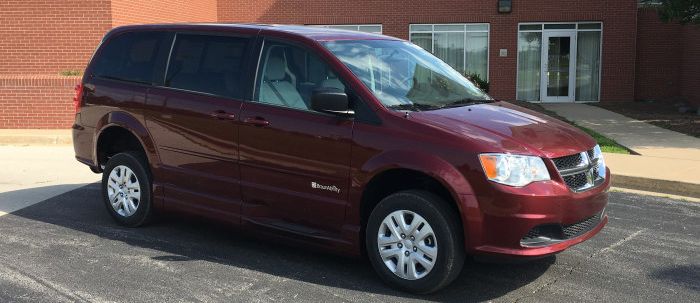 2017 Dodge Braun with optional mobility features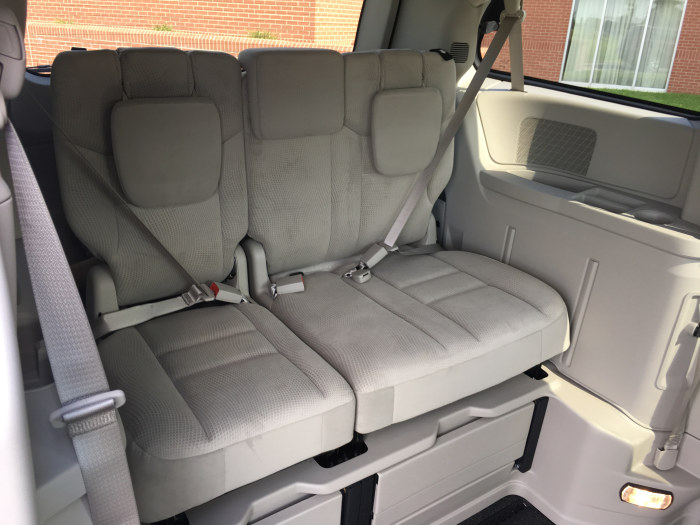 Let Us Help You Find the Right Mobility Vehicle For You!
When you have a disabled loved one, or want to offer disability transportation at your hotel or church, you want a top-notch mobility vehicle that's easy to use for everyone. Speak with our knowledgeable staff at Midwest Transit Equipment to start the process of making one of our excellent mobility vehicles yours today! You can speak with a knowledgeable member of our staff by dialing us up, toll free, at 800-933-2412.
When it comes to finding the right mobility vehicle for you and your loved one, it should never be a high-pressure environment. Our staff will happily walk you through every aspect of our well-stocked inventory, from the Q'Straint systems to the ramps, whether side- or rear-entry ones. We offer multiple configurations depending upon your needs, with seating for one or multiple wheelchairs. Since we're a commercial dealer, we can offer fantastic bulk pricing on all of our mobility vehicles and we're also happy to walk you through the process of receiving your rebate, if available. When it comes to crafting a financing plan that best suits you, we don't just work with any banks or financial institutions — we work with places that specifically work with caretakers to tailor a manageable monthly payment with low APR that won't tax your income.
There's enough pressure to choose the right mobility vehicle, so you shouldn't have to worry about whether or not it's compliant with regulations. We label what type of vehicles we have on our lot, as well as what laws they are compliant with. We even have vehicles that are ADA, FMVSS, and CMVSS compliant, all ready to help you transport your loved ones. This is also great for hotels, churches, and other institutions providing mobility for disabled people. Our affordability doesn't hurt, either!
Take a look at our inventory right here on our website. You can even use the handy button on our front page labeled "Mobility Vehicles" to see a pre-filtered inventory. Each entry comes with a paragraph of information about the vehicle as well as several pictures for you to see the multiple features, both inside and out. You can also watch videos of vehicle walk-arounds for a more in-depth look! Sign up for Price Drop Alerts, contact us via email or over the phone, or set up a test drive if you're ready to take some vehicles for a spin about town.
When you come to Midwest Transit Equipment, your satisfaction is our utmost concern. Our mobility vehicles for sale in Indiana are available to look at during our convenient business hours Monday through Saturday, so please swing by soon!
Testimonials
Midwest Transit is Awesome
Texas
October 17, 2017
Congrats! You got a 5 Star Review
USA
August 26, 2017
Congrats! You got a 5-Star Review
USA
July 17, 2017
5-Star Review
USA
July 17, 2017
Staff was the most friendly...
J.C. - R.C. Transportation
Richmond, Missouri
April 13, 2017
Best Bus Dealer in North America
Chicago, Illinois
October 14, 2016
Pleasure doing business with you!
Ron C - Managing Director & Board President
Louisville, KY
September 7, 2016
Felt like Family
Bloomington, IL
July 1, 2016
Excellent Service
June 1, 2016
I love my new MV-1
Whiteland, IN
May 24, 2016
Based on your Overall Experience would you recommend a purchase - YES!
San Diego, CA
May 16, 2016
Excellent Job in Helping Us
West Chicago
April 23, 2016
MV-1 Parts
Montana
April 22, 2016
Congratulations
Lisle, Illinois
April 11, 2016
Very Helpful
Illinois
April 6, 2016
Buy all of our future vehicles through Midwest Transit
San Diego, CA
May 16, 2016
Great Deal
Fort Polk, Louisiana
April 4, 2016
Congratulations Once Again
Lisle, Illinois
April 11, 2016
Highly Recommended
Battle Creek, Michigan
April 4, 2016
People are great to work with...
Springfield, Illinois
April 4, 2016
Read More