2017 Ford Berkshire Coach for Sale in Missouri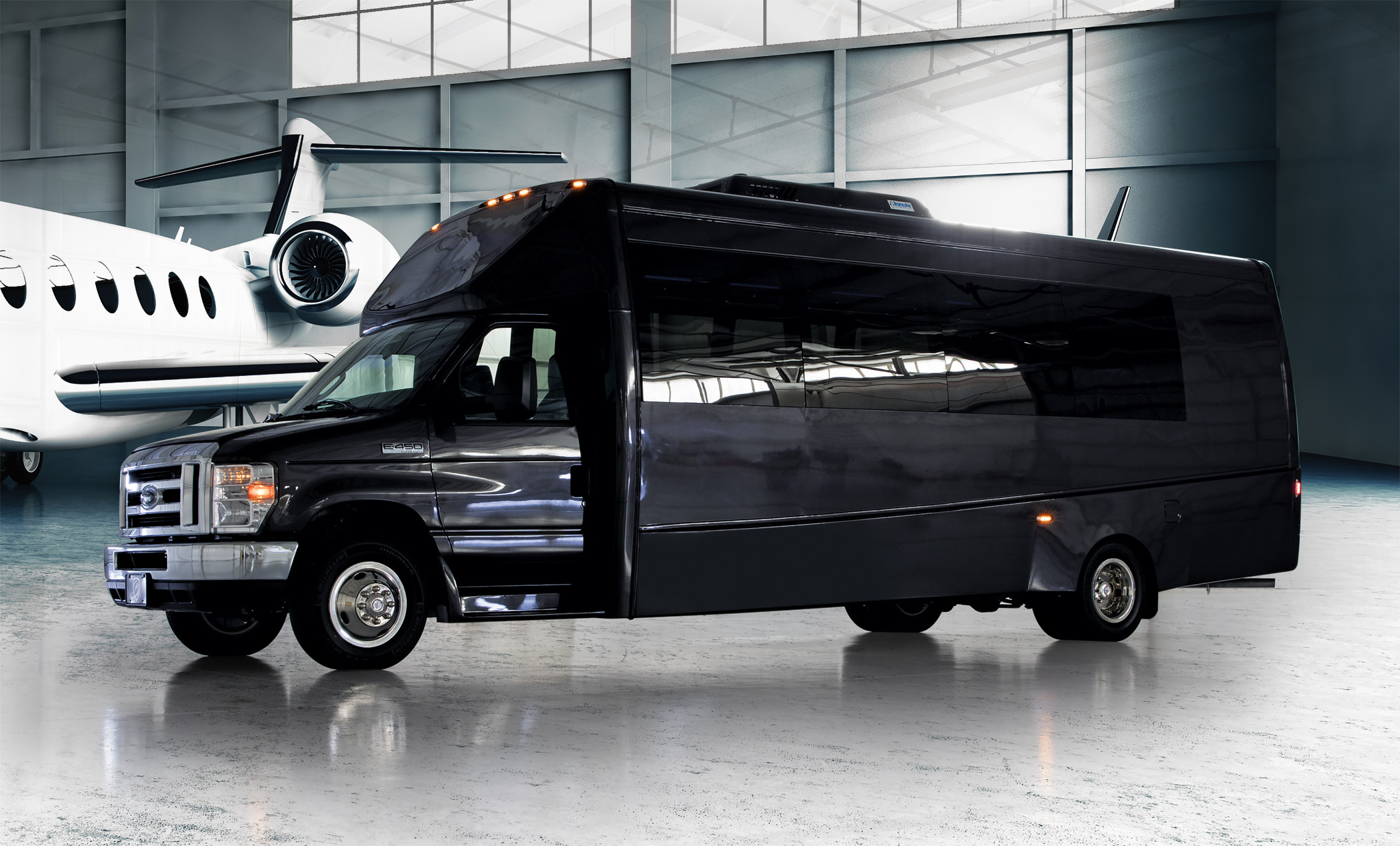 Vehicle shown above is the 2017 Berkshire Coach with optional equipment.
You and your coworkers deserve nothing less than the absolute best in transportation during business trips. That is why here at Midwest Transit we have the 2017 Ford Berkshire Coach for sale in Missouri. The first step towards a better journey is to visit our dealership as soon as today!
The E450 Super Duty emblazoned on the right-hand side of the Ford Berkshire Coach gives you an indication of the power under the hood. Pop it open to view the 6.8L V10 powertrain, its dual heavy duty batteries, and 225 AMP alternator. Everyone will appreciate less stops with the Berkshire Coach's massive 55-gallon fuel tank capacity. Plus, with a heavy-duty transmission cooling package, you won't have to worry about your engine overheating and ruining your trip. Driving down the highway in the Berkshire Coach has never been easier, thanks to cruise control.
It's all about the interior of the 2017 Ford Berkshire Coach for sale in Missouri. Walk past the front bi-fold entrance door into an interior covered by black padded vinyl on the walls and ceiling. Notice the wood flooring from Gerflor as you make your way to your high back seat made from black Hamilton luxury material with silver stitching. The driver and co-pilot will have plenty of comfort, no matter what the temperature outside is, thanks to dash heat and air conditioning. Passengers will also enjoy the 90.000 BTU Center Aisle Ducted Air Conditioning System with Roof-Mounted Condenser and integrated heat, which can be easily controlled by the digital thermostat. No matter the size of your group, the Ford Berkshire Coach can easily accommodate them all. Choose from a 23-, 26-, or 28-passenger bus with a 30-inch full rear luggage area and brushed aluminum Hadley Swan overhead racks to keep all of your smaller belongings secure. For any other questions regarding the the ins and outs of the Berkshire Coach, fill out an Ask a Tech form to receive expert advice from one of our trained technicians.
The fun doesn't end there, however. Grab hold of the PA system with a hand microphone to get everyone's attention. It is also a perfect device if you plan on giving a tour of an area. Everything you could want or need electronic-wise can be found on the 6.2-inch Jenson touchscreen console. Make/receive calls and text messages via Bluetooth®, navigate your way through an unfamiliar area with GPS, and even listen to some tunes with the multi-media radio connected to a 4-speaker audio system.
No matter what the occasion is, the 2017 Ford Berkshire Coach for sale in Missouri can entertain any large party. For convenience and luxury like you've never experienced before, come on down to Midwest Transit to experience this shuttle in person. We look forward to your visit!

Sales Hours
(800) 933-2412
| | |
| --- | --- |
| Monday | 8:00 am - 5:00 pm |
| Tuesday | 8:00 am - 5:00 pm |
| Wednesday | 8:00 am - 5:00 pm |
| Thursday | 8:00 am - 5:00 pm |
| Friday | 8:00 am - 5:00 pm |
| Saturday | 8:00 am - 12:00 pm |
| Sunday | Closed |
Testimonials
Congrats! You got a 5 Star Review
USA
August 26, 2017
Congrats! You got a 5-Star Review
USA
July 17, 2017
5-Star Review
USA
July 17, 2017
Staff was the most friendly...
J.C. - R.C. Transportation
Richmond, Missouri
April 13, 2017
Best Bus Dealer in North America
Chicago, Illinois
October 14, 2016
Pleasure doing business with you!
Ron C - Managing Director & Board President
Louisville, KY
September 7, 2016
Felt like Family
Bloomington, IL
July 1, 2016
Excellent Service
June 1, 2016
I love my new MV-1
Whiteland, IN
May 24, 2016
Based on your Overall Experience would you recommend a purchase - YES!
San Diego, CA
May 16, 2016
Excellent Job in Helping Us
West Chicago
April 23, 2016
MV-1 Parts
Montana
April 22, 2016
Congratulations
Lisle, Illinois
April 11, 2016
Very Helpful
Illinois
April 6, 2016
Buy all of our future vehicles through Midwest Transit
San Diego, CA
May 16, 2016
Great Deal
Fort Polk, Louisiana
April 4, 2016
Congratulations Once Again
Lisle, Illinois
April 11, 2016
Highly Recommended
Battle Creek, Michigan
April 4, 2016
People are great to work with...
Springfield, Illinois
April 4, 2016
It was worth the drive!
Iowa
April 4, 2016
Read More