2017 Ford Berkshire Coach for Sale in Kansas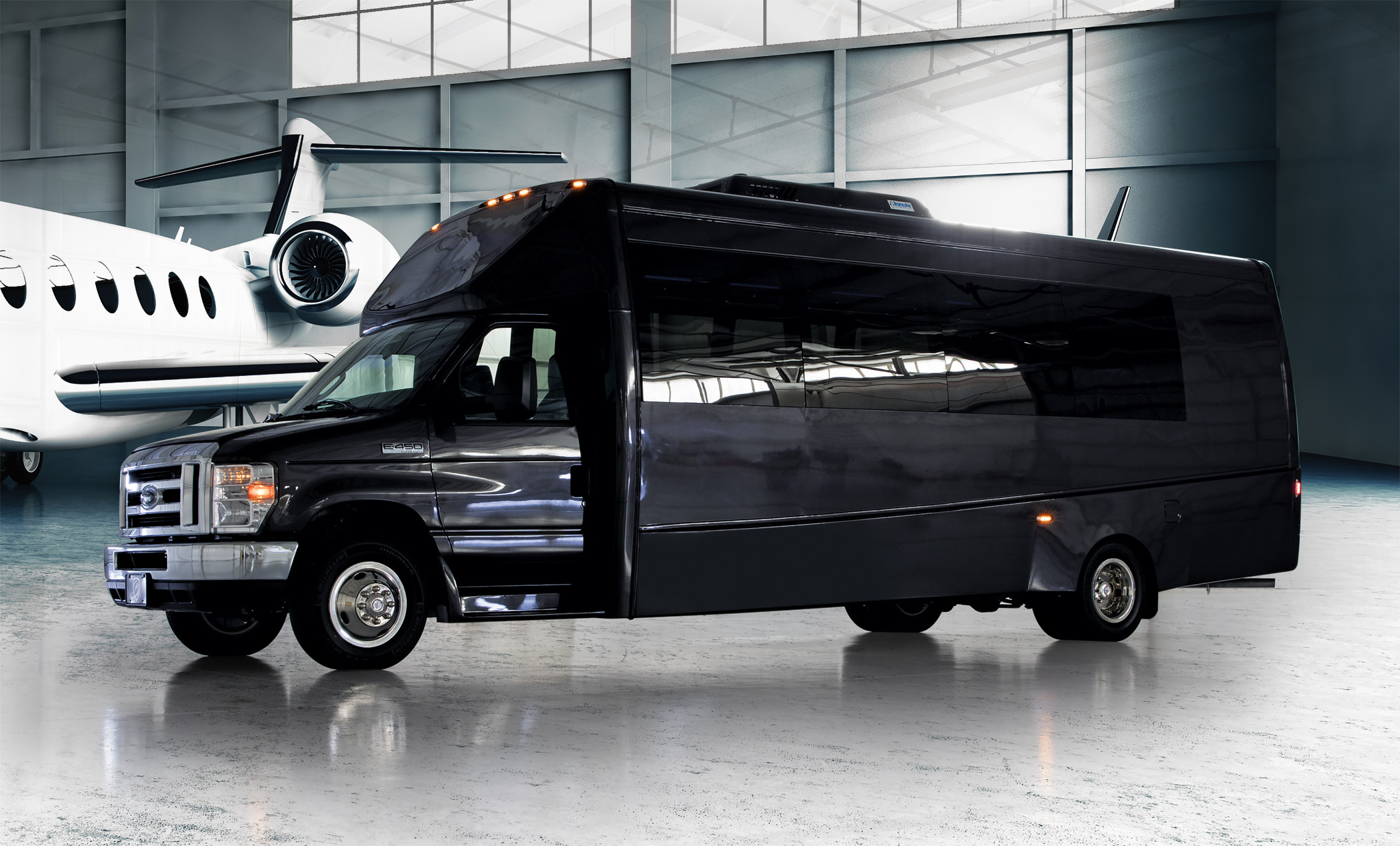 Vehicle shown above is the 2017 Berkshire Coach with optional equipment.
Instead of renting a car and having to drive yourself after getting off a plane, let a 2017 Ford Berkshire Coach for sale in Kansas pick you up and take you wherever you need to go. Come by Midwest Transit as soon as today to see this shuttle in person!
Whether you need a Berkshire Coach for yourself, or a whole group, its fully capable of accommodating your every need. With a variety of passenger capacities including 22, 26, and even 28, you'll have plenty of room for your colleagues when on a business trip or even a wedding party! Everyone's belongings, big or small, will either fit up in the Hadley Swan premium luggage racks above each seat or in the 30-inch full rear luggage area. If you decide to take a tour of an unfamiliar city in the Ford Berkshire Coach, it will give you an unobstructed view of the sights with its panoramic front view window and frameless side passenger windows.
Take a step back to admire the massive 2017 Ford Berkshire Coach for sale in Kansas. It either comes in all white or black paint and is illuminated by multiple lights including; front, rear, and side marker lights, turn signals, back-up lights, taillights, and license plate. The chrome front bumper and grille accent give it that extra touch of class. While everyone stops to stare at the sheer size of the Berkshire Coach, you'll be enjoying all of its luxurious interior amenities. Once you walk through the bi-fold entrance door, you'll be blown away by the Gerfloor Gaya wood flooring and the black-padded vinyl walls. Driver, co-pilot, and passengers alike will ride in extreme comfort, thanks to the high-back reclining seats that are covered in Hamilton luxury vinyl. Schedule an appointment with us if you require any type of service on your shuttle!
Whether you plan on using the Berkshire Coach for a short or long period of time, take advantage of some of the entertainment technology that is at your disposal. Two 19-inch LCD monitors mounted in the front bulkhead are there for your viewing pleasure, while USB ports are available in each row of seats. The driver has access to GPS, Bluetooth®, and a multimedia radio all on the Jenson JRV9000 6.2-inch touchscreen. Backing up will also be painless, thanks to the Voyager color back-up camera with 155-degree view.
An unforgettable experience awaits you in the 2017 Ford Berkshire Coach for sale in Kansas. If you would like to see this shuttle first-hand, get down to your local Midwest Transit dealer!
Sales Hours
(800) 933-2412
| | |
| --- | --- |
| Monday | 8:00 am - 5:00 pm |
| Tuesday | 8:00 am - 5:00 pm |
| Wednesday | 8:00 am - 5:00 pm |
| Thursday | 8:00 am - 5:00 pm |
| Friday | 8:00 am - 5:00 pm |
| Saturday | 8:00 am - 12:00 pm |
| Sunday | Closed |

Testimonials
Congrats! You got a 5 Star Review
USA
August 26, 2017
Congrats! You got a 5-Star Review
USA
July 17, 2017
5-Star Review
USA
July 17, 2017
Staff was the most friendly...
J.C. - R.C. Transportation
Richmond, Missouri
April 13, 2017
Best Bus Dealer in North America
Chicago, Illinois
October 14, 2016
Pleasure doing business with you!
Ron C - Managing Director & Board President
Louisville, KY
September 7, 2016
Felt like Family
Bloomington, IL
July 1, 2016
Excellent Service
June 1, 2016
I love my new MV-1
Whiteland, IN
May 24, 2016
Based on your Overall Experience would you recommend a purchase - YES!
San Diego, CA
May 16, 2016
Excellent Job in Helping Us
West Chicago
April 23, 2016
MV-1 Parts
Montana
April 22, 2016
Congratulations
Lisle, Illinois
April 11, 2016
Very Helpful
Illinois
April 6, 2016
Buy all of our future vehicles through Midwest Transit
San Diego, CA
May 16, 2016
Great Deal
Fort Polk, Louisiana
April 4, 2016
Congratulations Once Again
Lisle, Illinois
April 11, 2016
Highly Recommended
Battle Creek, Michigan
April 4, 2016
People are great to work with...
Springfield, Illinois
April 4, 2016
It was worth the drive!
Iowa
April 4, 2016
Read More