2017 Ford Berkshire Coach for Sale in Illinois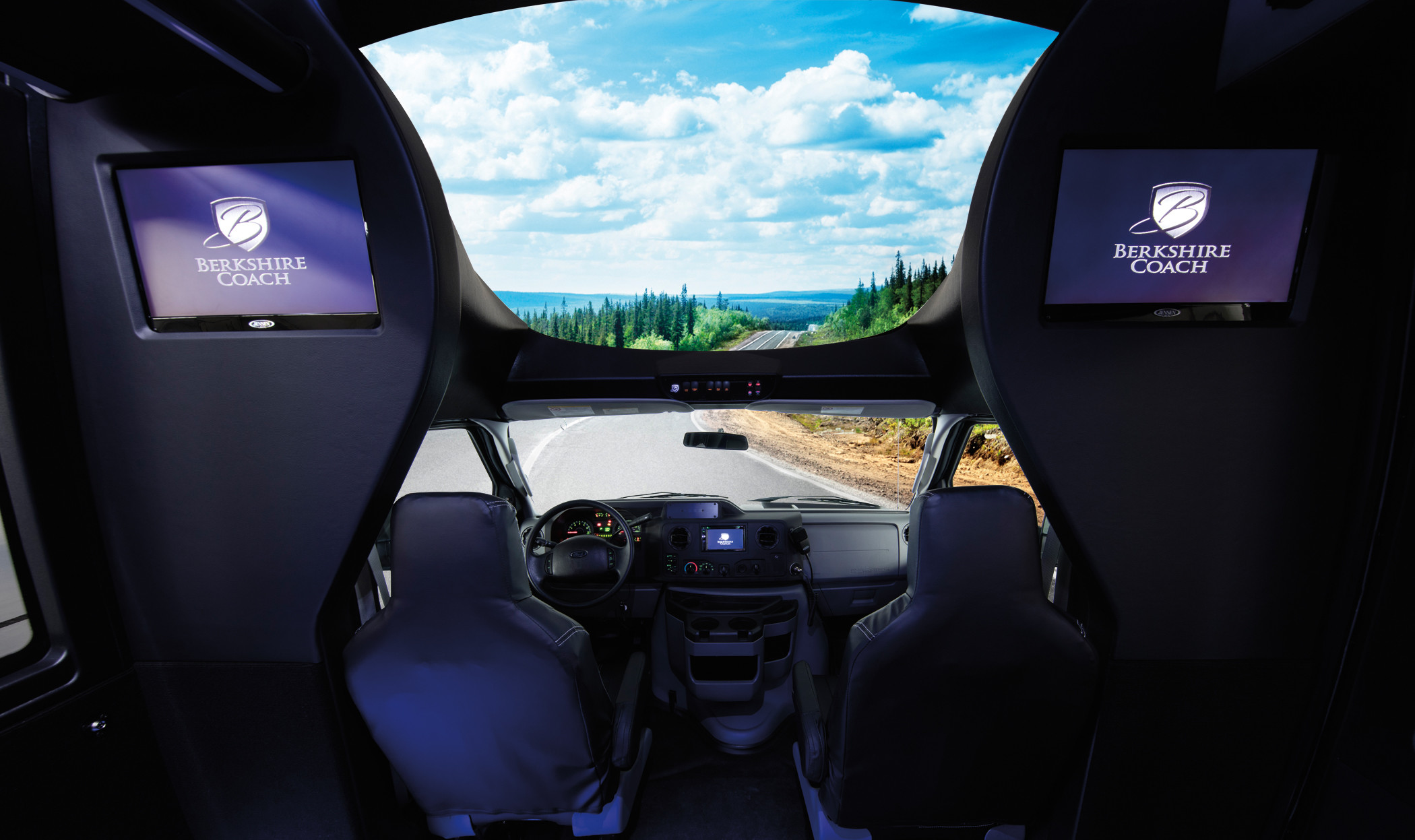 Sales Hours
(800) 933-2412
| | |
| --- | --- |
| Monday | 8:00 am - 5:00 pm |
| Tuesday | 8:00 am - 5:00 pm |
| Wednesday | 8:00 am - 5:00 pm |
| Thursday | 8:00 am - 5:00 pm |
| Friday | 8:00 am - 5:00 pm |
| Saturday | 8:00 am - 12:00 pm |
| Sunday | Closed |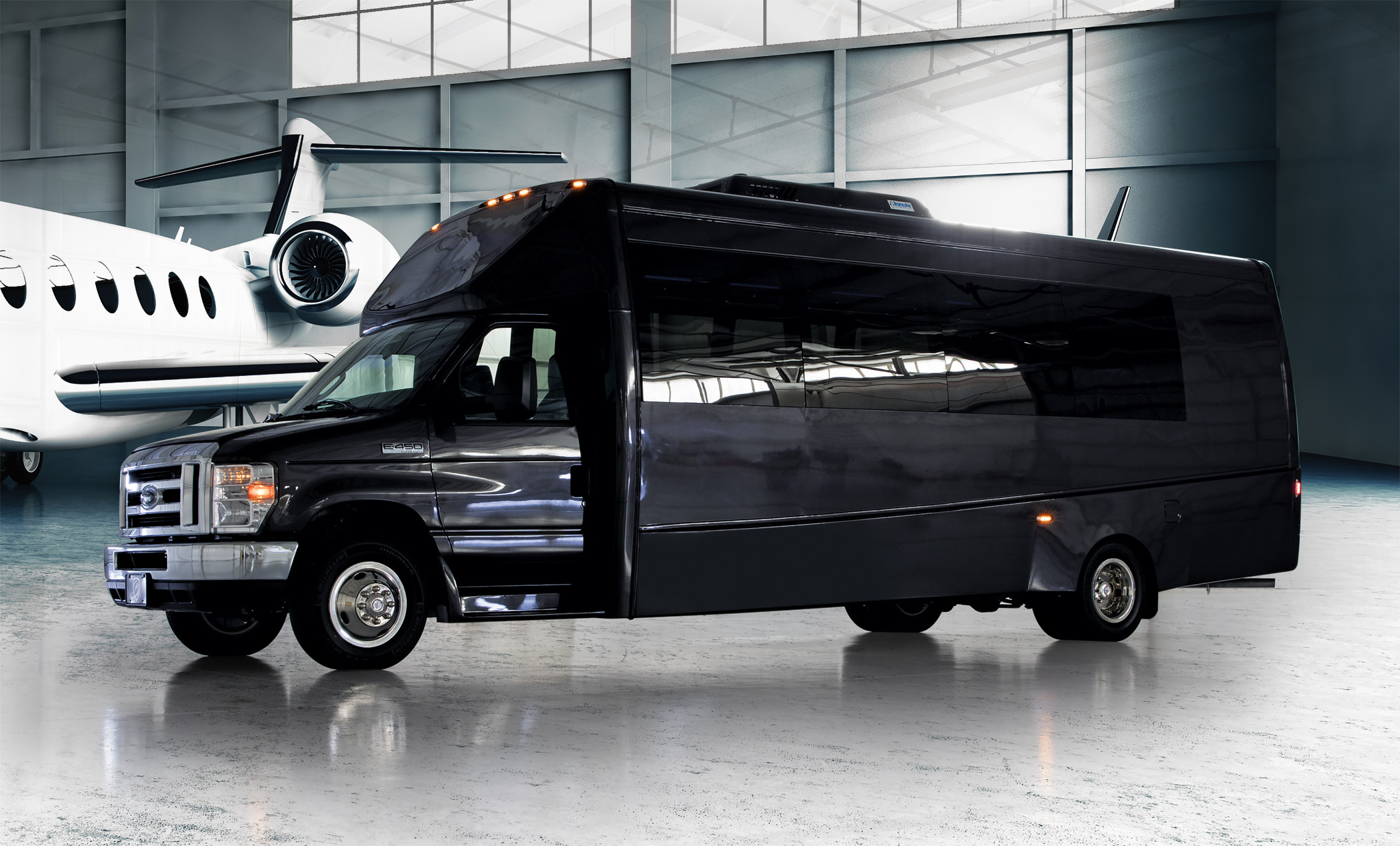 Vehicle shown above (right) is the 2017 Berkshire Coach with optional equipment.
Whether you are looking for transportation to and from the airport, to a restaurant, or want to tour in luxury, the 2017 Ford Berkshire Coach for sale in Illinois has you covered. If you want to see what all the buzz is about, visit Midwest Transit today!
As you enter the Ford Berkshire Coach, you'll be floored by its black-padded vinyl walls and soft-touch ceiling. Sit in the ultra-comfortable high back reclining seats, which are covered in Black Hamilton luxury upholstery with silver stitching. Convenient aisle-side armrest adds the perfect touch to every trip. Even the driver and co-pilot will enjoy the comfort of the Hamilton luxury vinyl. There is also plenty of storage space to go around, as the Berkshire Coach has Hadley Swan overhead parcel bins with LED reading lights and a 30-inch full rear luggage area that is separate from the passenger area.
If you are looking to purchase a 2017 Ford Berkshire Coach for sale in Illinois, we here at Midwest Transit are committed to serving you in every capacity. When you purchase a Berkshire Coach from us, our expert technicians in our Service Department will repair and maintain the bus for as long as you have it. We even offer our customers specials and promotions because we want them to walk away satisfied with the service they are receiving. With a superb Parts Department, you can be sure that whatever it is you need to keep your Ford Berkshire Coach running, we'll have it.
Ride around for a longer period of time in the 2017 Ford Berkshire Coach by taking advantage of the multimedia radio with four speakers and a remote. Listen to AM/FM or connect to Bluetooth®, so you can play your favorite music from your playlist on the Jenson JRV9000 6.2-inch touchscreen. If you have all 22 seats filled, get everyone's attention using the PA system with Hand Microphone integrated with the radio. Don't fear the Ford Berkshire Coach's large size, because the voyager color back-up camera with 155-degree view is there to help you see any obstacles behind you. With so much comfort and entertainment inside, the Ford Berkshire Coach is the perfect way for you to relax after a long flight.
If you would like to entertain a group of people, come on down to Midwest Transit to check out the 2017 Ford Berkshire Coach for sale in Illinois. Don't hesitate give us a call at 800-933-2412. We look forward to hearing from you!
Testimonials
Congrats! You got a 5 Star Review
USA
August 26, 2017
Congrats! You got a 5-Star Review
USA
July 17, 2017
5-Star Review
USA
July 17, 2017
Staff was the most friendly...
J.C. - R.C. Transportation
Richmond, Missouri
April 13, 2017
Best Bus Dealer in North America
Chicago, Illinois
October 14, 2016
Pleasure doing business with you!
Ron C - Managing Director & Board President
Louisville, KY
September 7, 2016
Felt like Family
Bloomington, IL
July 1, 2016
Excellent Service
June 1, 2016
I love my new MV-1
Whiteland, IN
May 24, 2016
Based on your Overall Experience would you recommend a purchase - YES!
San Diego, CA
May 16, 2016
Excellent Job in Helping Us
West Chicago
April 23, 2016
MV-1 Parts
Montana
April 22, 2016
Congratulations
Lisle, Illinois
April 11, 2016
Very Helpful
Illinois
April 6, 2016
Buy all of our future vehicles through Midwest Transit
San Diego, CA
May 16, 2016
Great Deal
Fort Polk, Louisiana
April 4, 2016
Congratulations Once Again
Lisle, Illinois
April 11, 2016
Highly Recommended
Battle Creek, Michigan
April 4, 2016
People are great to work with...
Springfield, Illinois
April 4, 2016
It was worth the drive!
Iowa
April 4, 2016
Read More